Blame global warming for increased risk of cloudbursts in India
According to scientists, both the frequency as well as the time of occurrence of cloudburst in India have altered over the last few years due to human-induced climate change.
By Editorial Team / Jul 15, 2022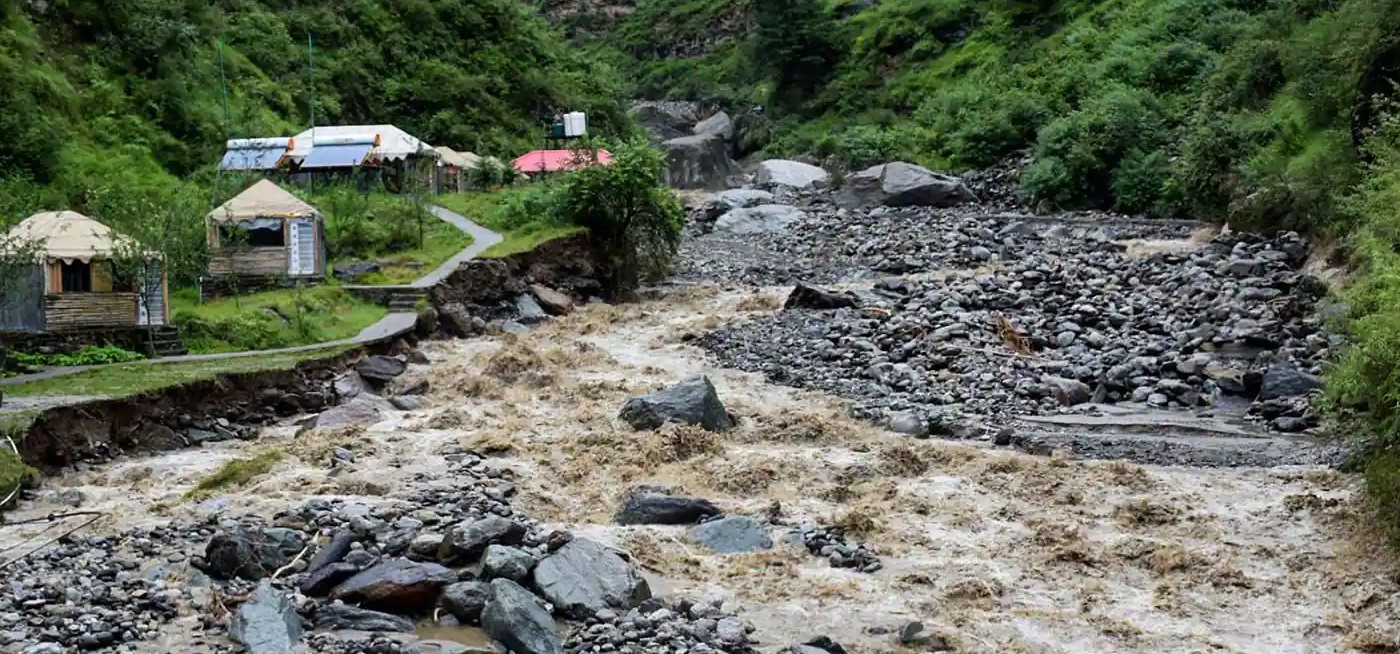 Image Credit: Mint
The recent incidents of 'cloudbursts' at the holy shrine of Amarnath in Ganderbal district of Jammu & Kashmir and in Kullu district in Himachal Pradesh, which combined led to almost 20 deaths and many people missing, have raised questions on the frequency of these incidents. Cloudbursts are not a new phenomenon for Himalayan states during the Monsoon season, however their growing intensity has been a concern for weather experts. According to scientists, both the frequency as well as the time of occurrence have altered over the last few years due to human-induced climate change.
Going by definition, a cloud burst is declared when a localised area receives very heavy rainfall upto the tune of 100 mm or more within an hour along with squally winds and lightning. Meanwhile, a rainfall event is defined as a mini cloud burst if a certain area records more than 50 mm in two consecutive hours. This feature is commonly observed along the southern Himalayan slopes of the Indian subcontinent during Monsoon months.
According to research, cloudbursts are associated with thunderstorms where strong updrafts from intense vortices on a smaller scale tend to hold up a large amount of water and upon sudden cessation results in catastrophic rainfall in a short period of time concentrated over a limited geographical area.
According to the Ministry of Earth Sciences' Assessment of climate change over the Indian Region, there is a rise in short-span high-intensity rain occurrences (short-lived cloudburst and mini-cloudbursts) along the west coast of India (5 per decade) and along the foothills of western Himalayas (1 per decade) during the 1969–2015 period (high confidence).
With Monsoon 2022 picking up pace in July, the country has already witnessed incidents of cloudbursts. Malana and Manikaran in Kullu district of Himachal Pradesh reported a cloudburst on July 6. Although it was not a cloudburst over Amarnath cave on July 9 but meteorologists are very much in tandem over a cloudburst in the upper region that triggered flash floods.
"With Monsoon covering the entire country, moisture laden easterly winds have been travelling from lower levels, reaching up to Western Himalayas. These winds have been colliding with the westerly winds flowing across the upper levels. Convergence of the winds flowing from opposite directions leads to formation of cumulonimbus clouds. In the hilly region, winds do not tend to travel at a faster pace and sometimes get trapped over a certain area, bringing torrential showers and even a cloud burst. Similar situation was witnessed near Amarnath Shrine and Kullu," said Mahesh Palawat, VP- Meteorology and Climate Change, Skymet Weather.
Climate change fingerprint on more intense and frequent cloudburst events
Frequency of cloudburst events in the Western Himalayan region has been on a continuous rise due to faster evaporation rates from glacial lakes at high altitudes, as a consequence of global warming.
Increased temperatures and warming oceans have led to higher evaporation, resulting in more humid winds. This is triggering a rise in high impact rainfall events. South Asian countries like India, Pakistan, Bangladesh are particularly vulnerable due to their proximity to the rapidly warming Indian Ocean in the south and rapidly melting glaciers in the north.
"Rising temperatures have led to an overall increase in moisture levels in the atmosphere. This is because warm air can hold more moisture and for a longer period. With this, strong Monsoon winds from Bay of Bengal now carry a lot more moisture than ever and resulting in heavy rains. Global warming has led to climatic shifts over South Asia since the 1950s. Now instead of moderate rains spread out, we have long dry periods interspersed with short spells of heavy rains. Thus, we do not witness rain for very long but when it rains, it dumps all the moisture in a few hours to a few days," said Dr Roxy Mathew Koll, Climate Scientist, Indian Institute of Tropical Meteorology (IITM), Pune and IPCC author for Working Group I report, The Physical Science Basis.
Scientific evidence has already confirmed that extreme rainfall events are going to get intense and frequent. Cloudburst could be more as well as intense due to global warming, although changes in severe convective storms (thunderstorms, hail storms, cloudbursts) due to variability driven by climate change, are still a matter of research due to historical data which cannot be either compared or is insufficiently monitored.
Cloudburst
Flood