Decoding Loss and Damage in Rapidly Changing Climate
Addressing loss and damage could span a variety of activities and apparently be shaped by the communities that are experiencing them. It could also entail providing immediate humanitarian assistance after an extreme weather event.
By Ritika Kapoor, Science Writer / Oct 26, 2022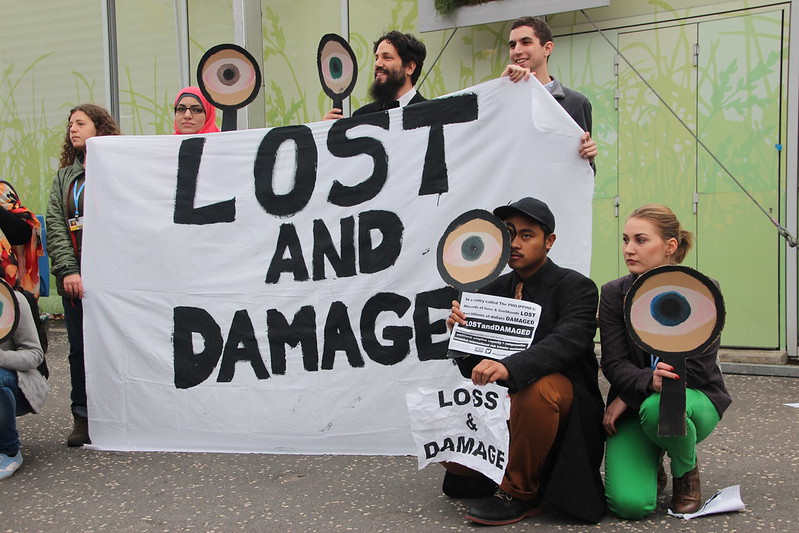 Loss and Damage is crucial for the most vulnerable countries. It is compensation for the impacts already being experienced.
In the present world, where millions are facing the real-life consequences of climate change in different forms, whether its extreme temperatures, rising seas, fiercer storms, desertification, and unpredictable rainfall, the concept of Loss and damage (L&D) brings forth the perspective of developing countries and small island countries.
L&D refers to the impacts of climate change that cannot be (or have not been) avoided through mitigation or adaptation. It is a general term used in UN climate negotiations to refer to the consequences of climate change that go beyond what people can adapt to. In addition to economic losses and damages to households, communities, infrastructure, and industries like agriculture, forestry, fisheries, and tourism, L&D also encompasses "noneconomic" losses to lives, cultures and territories. For example, salt farming is a major source of employment in coastal Bangladesh. But in recent years, frequent cyclones, tidal surges and heavy rainfall have hampered salt production, eroded the country's self-sufficiency, and forced it to import salt to manage the market shortfall. The collective failure to adapt and mitigate climate change has contributed to more loss and greater damage, especially in the countries that have done the least to cause it and are least prepared to address it. A study conservatively estimated the bill from extreme weather events in the twenty most vulnerable low- and lower-middle-income countries at $593 billion, while for India, it accounts to $256 billion1 for the time-period 1998-2017.
Pakistan floods of 2022 are the latest example of loss and damage. Reportedly, economic damages were around $18 bn, wiping out more than 8 million acres of crops and displacing more than 33 mn people. Apart from contributing to GDP loss, glacial melting also forms part of non-economic loss and damage in the form of loss of culture and the social and psychological impacts of forced migration and relocation.
Developing countries have been asking for L&D support since the beginning of the UN Framework Convention on Climate Change (UNFCCC), which was signed in 1992. Vanuatu Draft (on behalf of the Alliance of Small Island States, AOSIS) called for "the financial burden of loss and damage suffered by the most vulnerable small island and low-lying countries… [to] be distributed in an equitable manner amongst the industrialized countries." The proposal even included creating an insurance scheme to provide financial resources to countries impacted by sea level rise to which each country would contribute based on their relative contribution to global emissions and their share of the global gross national product.
Most of these discussions around L&D pivot around money without which, other action to address L&D is extremely limited. G77 and the AOSIS have repeatedly emphasized the importance of L&D at the annual conference of the parties to the UNFCCC (COP). These efforts have often faced resistance from the "Annex II" countries under the UNFCCC—members of the Organisation for Economic Co-operation and Development (OECD) in 1992—which include most of the world's largest current and historical emitters, but eventually yielded some concrete results, including the recognition of L&D in Article 8 of the 2015 Paris Agreement. Yet despite the recognition, countries' NDCs and pressure from climate activists this stays a standing agenda item, and no COP has adopted it, which has left the developing countries increasingly dissatisfied.
Under the Paris Climate Agreement, countries recognized the importance of "averting, minimizing and addressing" loss and damage. Loss and damage can be "averted" and "minimized" by curbing greenhouse gas emissions (mitigation) and taking preemptive action to protect communities from the consequences of climate change (adaptation). "Addressing" loss and damage is the crucial third pillar of climate action: helping people after they have experienced climate-related impacts. At COP26, a large coalition of climate-vulnerable countries advocated for creating a new finance facility or fund dedicated to loss and damage. These countries established a two-year Glasgow Dialogue to discuss possible arrangements for loss and damage funding and agreed to operationalize and fund the Santiago Network on Loss and Damage (SNLD), which aims to provide developing countries with technical assistance to address loss and damage. Following the overall lack of progress at Bonn UN negotiations, loss and damage will again take center stage at COP27.
Ulka Kelkar, Director, Climate Change programme, WRI suggests to focus on 3 important things with regards to L&D ahead of COP 27 (Excerpts taken from her talk at a recent Climate Trends webinar on India's Long Term Strategy)
"One is to operationalise the Santiago Network for Loss & Damage which was created. There is a coalition of vulnerable countries which was formed called the ACT2025 and they have proposed a formal structure with experts and resources for the SNLD.
Secondly, L&D needs to become a formal permanent agenda item in the COP, especially in the subsidiary bodies, only then it will get this formal recognition so every time we don't have to fight for it to be on the agenda.
Third, set up the actual funding and the flow of the funding to the developing countries or projects where L&D actions need to be implemented. An example of this is the V20 nations which set up a joint multi-donor trust fund dedicated with a window for L&D, so if someone wants to donate money they know where to put that money and how it will flow. The Bangladesh Climate Change Trust Fund is also a good example of how countries can put forward their domestic resources in addition to international ones, and implement these actions in partnership with longstanding local community based NGOs."
So far, a handful of developed countries have signaled some level of support for loss and damage financing including Canada, Denmark, Germany, New Zealand, Scotland and the Belgian province of Wallonia.
Addressing loss and damage could span variety of activities and apparently be shaped by the communities that are experiencing them. It could also entail providing immediate humanitarian assistance after an extreme weather event, offering relief and rehabilitation to victims through provision of basic amenities, enabling social protection systems to furnish emergency cash transfer to the poor, and enhancing microcredit institutions to put out financing for livelihood restoration. Such funding could even be beneficial to help people rebuild their homes after they get destroyed. As an example, while early warning systems in Bangladesh have helped radically reduce fatalities from extreme weather events, people leave the storm shelters and eventually find their homes and ecosystems destroyed and have thus unquestionably experienced loss and damage. Finally, when necessary, funding for loss and damage can assist with migration and relocation of people who are permanently displaced and or help diversify skills if their original livelihoods are not any longer available.
It is extremely important that developed countries use this UN climate summit, hosted in Africa by Egypt, to exhibit solidarity with vulnerable countries by rallying behind them with more funding support to both adapt to climate impacts to reduce their severity and thus help manage the devastating losses and damages that they're experiencing already — both of which are essential to create resilience to impacts of changing climate, that may still continue to worsen.
COP27
LossAndDamage