Rising heat, falling food security: Climate change leading to crop failure
IPCC warning that heat stress on agriculture can lead to food shortages in India has already started to come true this year, with wheat output falling 5-10% compared to last year
By Vandita Sariya / May 2, 2022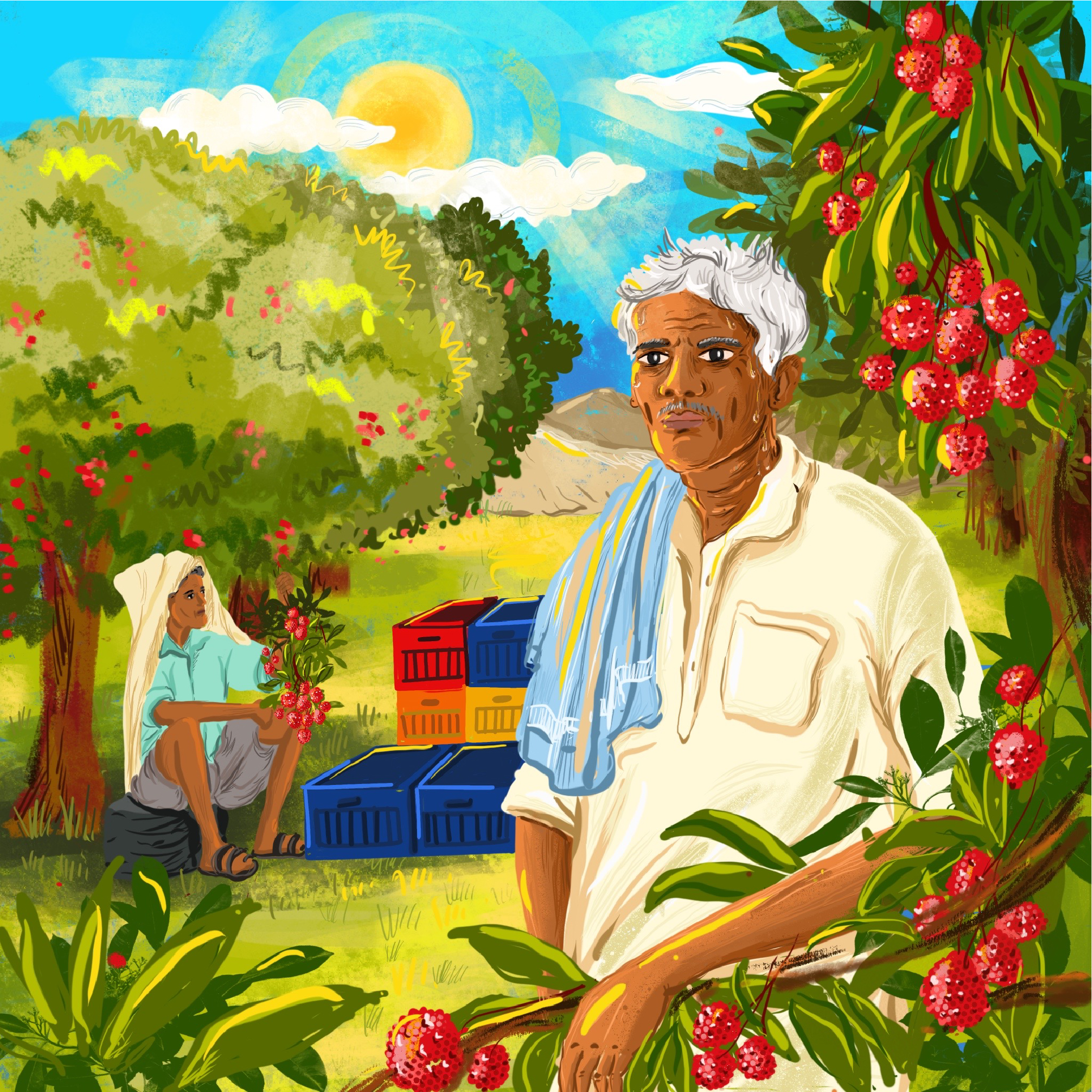 Bachcha Singh, a litchi farmer and president of the Litchi Utpadak Sangh, said, "We are helpless as the weather is playing truant with litchi farmers. Litchi scientists have informed us that it is the result of climate change and that this trend will continue."

India experienced its hottest March in the past 122 years this year, and April brought in no respite either. On April 26, temperatures in many cities soared beyond 40°C. Some of the hottest cities in India were Barmer (45.1°C), Brahmapuri (44.7°C), Rajgarh (44.6°C), Akola (44.5°C), Jaisalmer and Wardha (44.4°C), Bikaner (44.1°C), Kandla (43.8°C), Jamshedpur (43.6°C) and Varanasi (43.4°C).
Wheat growers have especially observed a drop in wheat yield and shrivelled grains as a result of early and sustained heatwaves. A drop of 5-10% from last year's yield has been noted so far, with the average yield estimated to go down by 10 to 12 quintals. Fourteen farmers in Punjab died by suicide over the month of April because of fallen wheat yields as a result of intense heat. These farmers mostly practise contract farming and have mounting debts exacerbated by failing crop production.
So how did the excess heat damage the crop? In India, wheat is sown during mid-October to mid-December, and harvested during mid-March to mid-April. "The crop is more sensitive to excess temperature at its flowering and grain-filling stages. The usual March temperature is conducive for grain filling. This year, however, record-breaking heat since March affected the process." explained Devinder Sharma, food and trade policy analyst.
It's not just wheat
Over the past few weeks, markets across the country witnessed a sharp rise in the price of lemon, with 1kg selling for Rs350 in some states. The primary reason for this is the failure of two consecutive crop seasons. Excess rainfall in September and October meddled with crop flowering. For good flowering, lime trees are not watered in those months. Higher than normal temperature post February this year ruined the second season as younger fruits dropped off because of excess heat. Experts have pointed to climate change for such vagaries in the weather schedule. However, high transportation costs due to escalating fuel prices also added to the increase in lemon prices.
Not just wheat and lemon, summer favourite mango is also taking a hit because of pressing heat. Reports confirmed farmers witnessing drying and dying of mango flowers in Gujarat and Tamil Nadu. Last year's cyclone Tauktae also damaged mango orchards in Gujarat. There has been a 52% rise in cyclones in the Arabian Sea in two decades because of abnormal rise in its temperature.
Litchi cultivation, which requires temperatures between 30°C-35°C to grow, has been affected as regions in Bihar recorded temperatures nearing 42°C-43°C degrees. The harvest is feared to reduce by a quarter this year.
Livestock and poultry farmers are also coping with soaring heat. Low wheat yield is affecting fodder stock, with some districts in Haryana banning the sale of fodder outside the state. Authorities in some states issued public interest advisories to take special care of livestock and make proper water arrangements for them.
As per a report published in the The Lancet Planetary Health, by the end of this century, livestock farmers may face financial losses between $15-$40 billion annually because of heat stress, with poor, tropical countries of South America, Asia and Africa bearing the most damages. Last year, Mangystau in Kazakhstan reported the death of more than 1,000 livestock during a heatwave, with farmers scrambling for insufficient supplies of livestock feed.
An earlier report released by the Intergovernmental Panel on Climate Change (IPCC) in 2018 had warned about a substantial increase in "annual occurrence of potentially deadly heatwaves in India and Pakistan".
An IPCC WG II report released earlier this year has found that heat waves have reduced yields of wheat and rice. The combined effects of heat and drought decreased global average yields of maize, soybeans, and wheat by 11.6%, 12.4%, and 9.2% respectively.
The report also mentioned that estimated current yield losses due to the combined effects of ozone and heat in India at 36% for wheat and 20% for rice.
India's wheat export goals in jeopardy?
India has a target to export 10 million tonnes of wheat this year, beating last year's export of 7.85 million tonnes. India is aiming to supply 3 million tonnes to Egypt alone, fulfilling the gap left by the Ukraine-Russia crisis. Both the countries combined used to export wheat to about 55 countries.
Experts said that taking the domestic situation into consideration, if there's no forewarning system in place to set export limits, it can be a cause of worry. Domestic wheat prices have already risen by 5-7% because of the fall in production output.
The IPCC WGII report warned that climate-related risks to agriculture and food systems in Asia will substantially rise due to changing climate, with varied impacts across the region.
As per Global Nutrition Report 2021, India saw a 3.8% increase in people living with food insecurity between 2014 and 2019. In 2020, India became home to nearly 200 million undernourished people.
"Our government had a target to procure around 44 million tonnes of wheat. It is expected to drop to anywhere between 25-35 million tonnes because of fallen yields, farmers saving some portion for themselves and due to trade buying and stocking the wheat to export," added Sharma.
Considering India is already reeling from intense heat before summer officially begins, it may be forced to rethink its lucrative export strategy and focus on a more sustainable domestic supply.
agriculture
heatwave