After prolonged break, Monsoon 2022 picks up pace; Can La Nina save dwindling season
La Nina seems to be a saviour, which is linked with good Monsoon rains over India. It is favored to continue through the end of the year, even spilling into 2023 but with declining trend.
By Editorial Team / Jun 20, 2022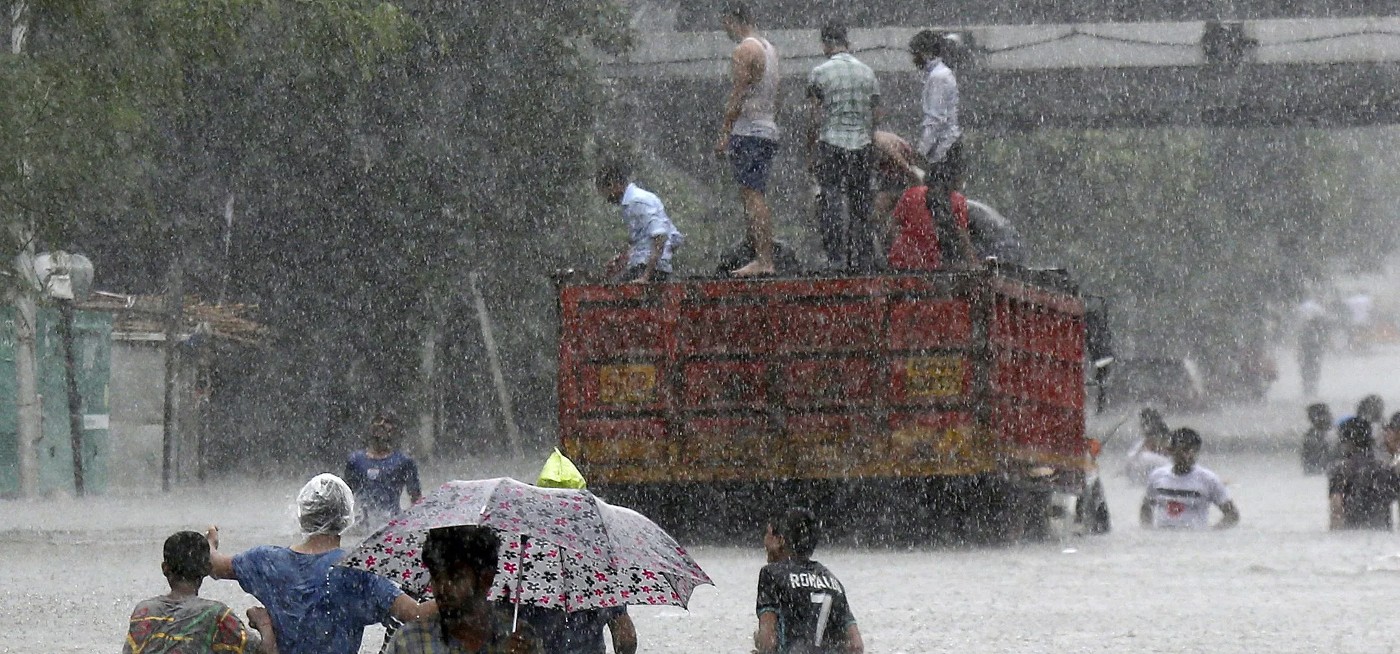 Image Credit: AP
After much speculation of a weak early onset, Southwest Monsoon 2022 finally arrived over its first post, Kerala on May 29. Normal onset date of four-month long season over Indian mainland is June 1, with an error margin of +/- 4 days.
Pre-Monsoon season looked promising, with rains peaking during the second half of May across the Southern Peninsular region. These rains could be attributed to two cyclones Asani and Karim in Bay of Bengal and Indian Ocean, respectively which pulled Monsoon over Andaman Sea on May 16, six days early against its normal date of May 22.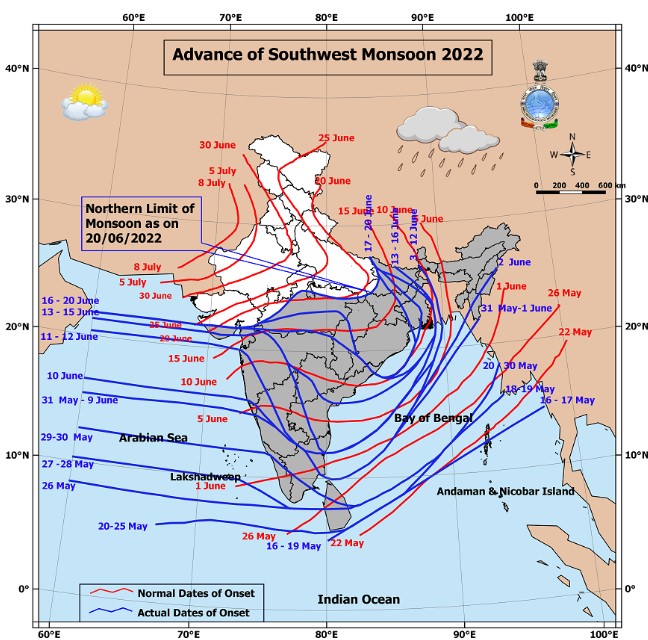 Image Courtesy: IMD
However, Monsoon made a weak onset over Kerala. Subsequently, the progress of Monsoon was lull and remained sluggish for good 10 days. Monsoon current finally picked up pace after June 10 and have been progressing steadily thereafter, but still lagging behind the schedule. As of June 20, the Northern Limit of Monsoon (NLM) is passing through Porbandar on the western side and from Churk on eastern side. Normally, by June 20, NLM should have reached Uttar Pradesh along with parts of Uttarakhand, Himachal Pradesh and even Jammu and Kashmir and most part of South Gujarat.
State run, Indian Meteorological Department (IMD) has predicted normal Monsoon rains to the tune of 103% of the Long Period Average of 870 mm for 2022. They had earlier predicted 99% of LPA in April, but with La Nina likely to stay throughout the Monsoon made them revise the forecast.
Criteria of Monsoon
True to its reputation, even after so many years of tracking, monsoon continues to play truant and tricky. While IMD claims meeting all the criteria needed for Monsoon arrival, private players questioned rainfall criterion not being met before the big announcement. As per IMD, criteria for declaring onset of Monsoon are:
Rainfall: Over 60% of 14 stations (Minicoy, Amini, Thiruvananthapuram, Punalur, Kollam, Allapuzha, Kottayam, Kochi, Thrissur, Kozhikode, Thalassery, Kannur, Kudulu and Mangalore) should receive 2.5 mm or more rain on consecutive 2 days.

Wind Field: Depth of westerlies should be maintained up to 600 hpa in the box equator to Lat. 10°N and Long. 55°E to 80°E.

Outgoing Longwave Radiation (OLR): OLR value should be below 200 wm-2
In the past also, questions have been raised over several criteria of Monsoon, from onset to arrival dates of Monsoon over different places to retreat of Monsoon, given the changing climatic conditions. IMD made the following changes in 2019.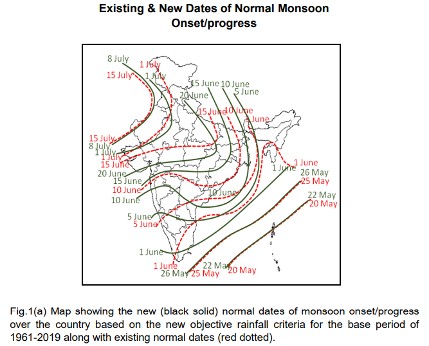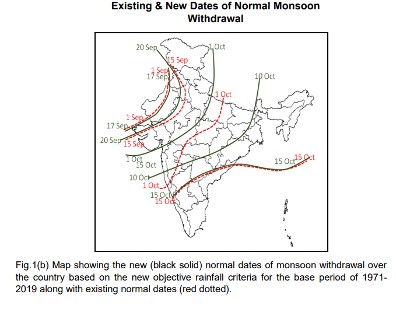 Image Courtesy: IMD
Progress of Monsoon
Southwest Monsoon progresses in pulses and thus, waxing and waning of Monsoon current is natural. After giving some heavy showers on the pretext of Cyclone Asani, the Monsoon current lost strength. According to meteorologists, the Monsoon needed some time to gather energy before it became active again. Also, other atmospheric conditions were not in sync for an active Monsoon onset.
The weak phase of the monsoon continued till June 9 on account of the inactive Intertropical Convergence Zone (ITCZ). ITCZ is a trough of low pressure near the equator that is responsible for overshooting Monsoon systems in the Indian Ocean, taking it forward.
In the absence of any significant Monsoon low or depression in Bay of Bengal or an offshore vortex over Arabian Sea, rainfall deficiency kept on increasing further.
However, what holds relevance is the spatial distribution of rainfall. Lately, the number of rainy days have decreased however the cumulative rainfall across the country has been normal to above normal since the last three consecutive years. According to forecasters, days of heavy rainfall have increased due to climate change.
"Though it depends from year to year, climate change definitely has a role to play. The number of rainy days has gone down over the years. Meanwhile, there has been an increase in extreme weather events. We now see short but intense bouts of rain, sometimes around 100 mm rainfall in just 24 hours. Earlier, this much precipitation would occur over a period of 10 to 15 days," said Mahesh Palawat, Vice President-Meteorology and Climate Change, Skymet Weather.
What lies ahead for Monsoon 2022
La Nina seems to be a saviour, which is linked with good Monsoon rains over India. Besides, the other two atmospheric phenomena affecting Monsoon are positive Indian Ocean Dipole (IOD) and Madden-Julian Oscillation (MJO). While MJO is likely to oscillate towards the Indian Ocean by mid of June, enhancing some rains, but IOD would continue to be negative.
"Conversely, a strong IOD carries the ability to subjugate, otherwise dwindling monsoon rains. The current monsoon season 2022 has also commenced under the shadow of a negative and growing IOD index. However, cooling of the Pacific Ocean is promising continuation of La Nina conditions well into the 2nd half of season. Therefore, monsoon 2022 is expected to ride over favorable La Nina, albeit battling adverse effects of negative IOD," said G P Sharma, President- Meteorology and Climate Change, Skymet Weather.
As per the models, La Niña is favored to continue through the end of the year, even spilling into 2023 but with declining trend. La Niña is most likely to decrease into the Northern Hemisphere by late summer with a 52% chance in July-September 2022. However indices would increase slightly through the Northern Hemisphere fall and early winter 2022 with 58-59% chance.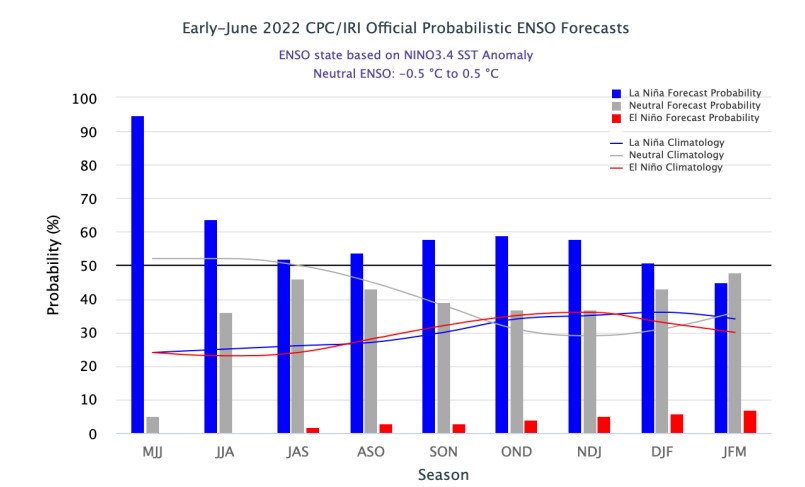 Image Courtesy: NOAA
Compound impacts
Change in weather patterns have socio-economic impacts in terms of food inflation, unemployment, and industrial demand. Good farm output keeps food inflation in check. The Southwest Monsoon accounts for 70% of India's annual rainfall, making it crucial for the agricultural economy, which is 11% of gross domestic product (GDP). Large area of the country are still rainfed and completely rely on Monsoon for a good crop yield.
The last decade has seen significantly varying Monsoon patterns from below normal to above normal rains and even drought (as shown in the following table). The fickleness of Monsoon continues to hound economists, forecasters and policymakers.

With a lull in the progress of Monsoon, experts have already started raising concern over agricultural output. "Delay in the arrival of Monsoon, especially over Northwest India, may aggravate water and food security. The region is already battling deficit rainfall between March-May amidst a series of severe heat waves. While Monsoon can pick up the momentum any time, crop loss due to the delay of onset of Monsoon may not necessarily be covered up with rains in the pending time." said Dr Roxy Mathew Koll, Senior Scientist at the Indian Institute of Tropical Meteorology.
Late onset over Central India and further into Northwest India would pave the way for more heatwaves. Usually with the timely onset of Monsoon over eastern and central parts, severe heat waves take a back seat. Humid winds reaching up to the region trigger pre-Monsoon rain and thundershowers, bringing respite in June. First 10 days of June 2022 have been marred by severe heatwave conditions across Northwest India, along with parts of Central India.

Monsoon 2022
Monsoon in India
La Nina and Monsoon