Climate change behind flooding Monsoon rains over Northeast India
Climate change has fueled Monsoon rains as rising temperatures have increased moisture content in the atmosphere. Warmer winds have a tendency to hold more moisture and for a longer time, resulting in extremely heavy rains in a shorter span of time.
By Editorial Team / Jun 23, 2022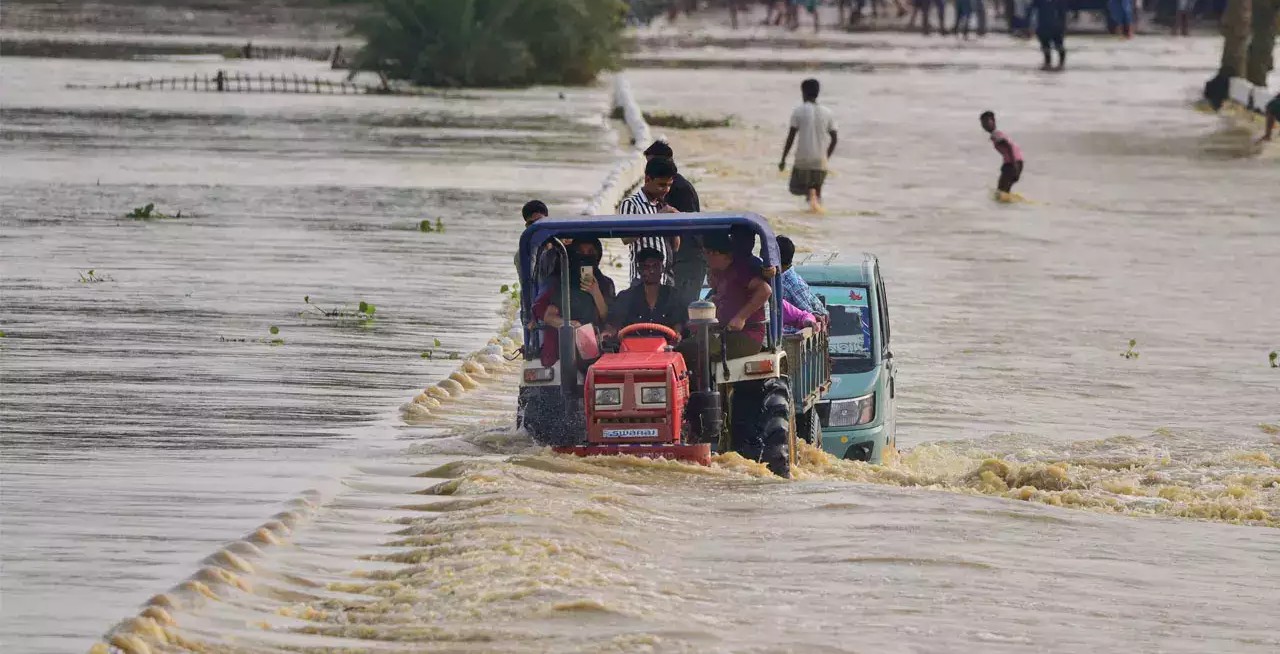 Image Credit: TOI
India's northeastern region has recorded incessant rains with the onset of the summer monsoon. Heavy to extremely heavy rainfall has triggered flash floods, landslides and mudslides across parts of Assam, Tripura and Meghalaya.
Meghalaya recorded whopping 3030 mm of rain in a span of just seven days from June 11-18. In the three weeks of monsoon so far, the cumulative rainfall for Meghalaya stands at 1314.4 mm against the normal of 503 mm. Assam too recorded 556.6 mm of rainfall as compared to the average of 294 mm.
In the typical scenario, winds from Bay of Bengal travel to eastern Himalayas and then recurve, bringing rains over East Assam and Arunachal Pradesh. However, this year, in absence of Monsoon weather systems over core region of West Bengal and the Odisha coast, humid winds from the Bay of Bengal are directly reaching India's northeastern states. This has been responsible for heavy showers over the region. The southwesterly direction of these winds has meant that heavy rains have remained concentrated over West Assam, Meghalaya and Tripura.
"The moisture convergence with the Bay of Bengal winds was quite high ever since the Southwest Monsoon entered Northeast India. The abundance of moisture heated the eastern Himalayas, bringing heavy to extremely heavy rainfall during the first half of June. In a normal scenario, Northeast India records heavy spells for 5-7 days in a month, but this time it rained heavily from straight 15 days. Similar meteorological conditions were seen during the May also, which had led to flooding situation across Assam between May 11-21," said Dr R K Jenamani, Senior Scientist, India Meteorological Department (IMD).
Climate Change fueling extreme heavy rains
According to experts, changing climatic conditions have further fueled rainfall activity as rising temperatures have increased moisture content in the atmosphere. Warmer winds have a tendency to hold more moisture and for a longer time, resulting in extremely heavy rains in a shorter span of time.
"These strong monsoon winds in the Bay of Bengal can carry a lot more moisture than ever before in response to global warming. This is because warmer air holds more moisture, and that too for a longer time. Hence, the large amount of rainfall that we see now might be a climate change impact", said Dr. Roxy Mathew Koll, the Lead Author of IPCC.
Roxy further added that extreme rainfall events are projected to increase proportionally over South Asia. "There been a climatic shift in monsoon patterns over South Asia since the 1950s. For every 1-degree Celsius rise in temperatures, the total amount of rainfall will increase by 7-10% in the monsoonal region."
What Monsoon 2022 holds for Northeast India
Despite some heavy spells during the initial phase of Monsoon, experts have still predicted less rainfall for Northeast India overall. A similar trend has been noticed during the last three years as well, wherein the country recorded normal to above normal rainfall but rainfall in the region did not perform at par.
Northeast India, along with the Western Ghats, contributes the maximum amount of rainfall during the four-month long Monsoon season. According to meteorologists, Northeast India receives heavy rainfall on account two accounts:
a)
During the break Monsoon conditions, wherein the east-west trough shifts towards the Himalayas.
b)
Weather systems travelling along the normal position of Monsoon trough i.e. from Sriganganagar-Allahabad-Jharsuguda-North head Bay of Bengal
"It has been established that Monsoon patterns have changed at large during the last few years. Rainfall deficit in Northeast India can be attributed to this very fact. We now do not witness long break monsoon conditions, which earlier used to last over a week to 10 days. Also, the monsoon systems are now tracking south of Monsoon trough more i.e. across central parts of the country. With this, Western Disturbances which are already feeble in nature during this time of year, are not able to pull these systems northwards. Thus, these systems do not reach up to Northeast India and hence rainfall deficit," said G P Sharma, President- Meteorology and Climate Change, Skymet Weather.
Floods