With triple dip La Niña likely, are climatic patterns changing in a warming world?
The present La Niña episode has already endured through 23 months and is still counting. There are chances that it may become the longest on record.
By Kartiki Negi / Jul 7, 2022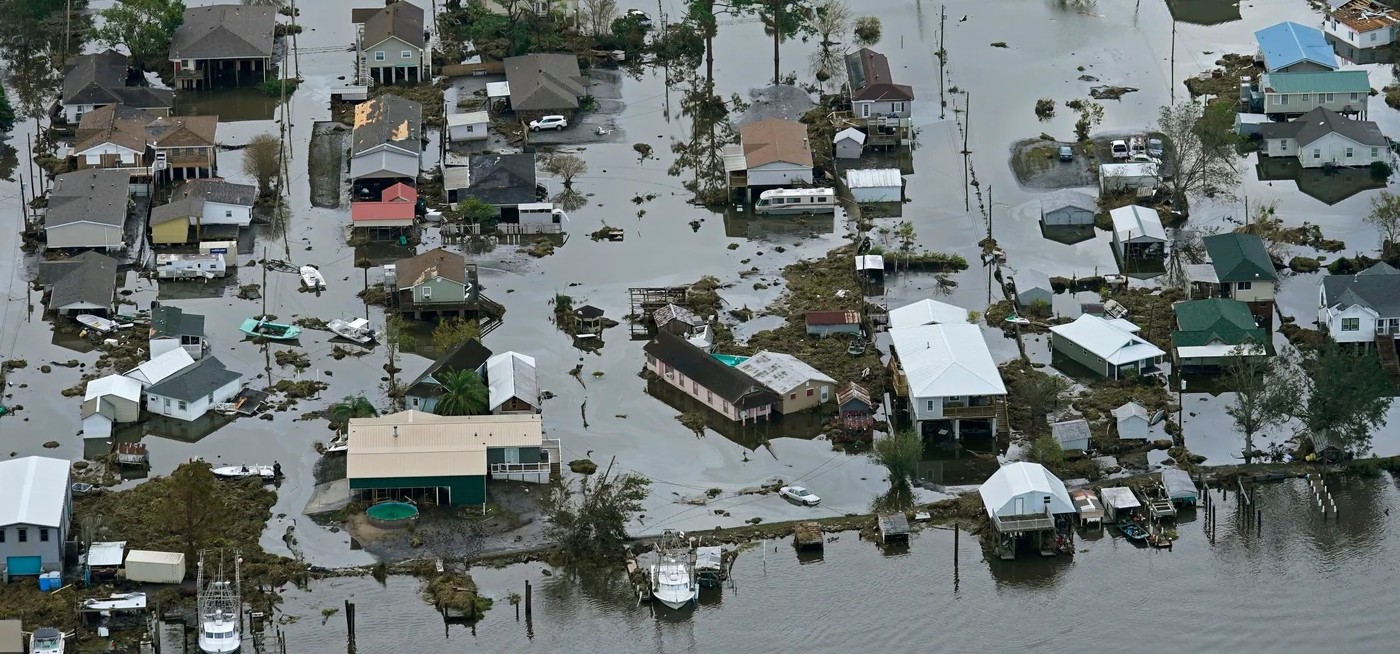 Image Courtesy: Hindustan Times
The ongoing La Niña event looks likely to extend its stay through the rest of the year, and perhaps even into early 2023. According to NOAA, there is a 52% probability of the La Niña decreasing in the Northern Hemisphere during late summer (July-September 2022) before slightly picking up again heading into fall and early winter of 2022 (58-59% chance).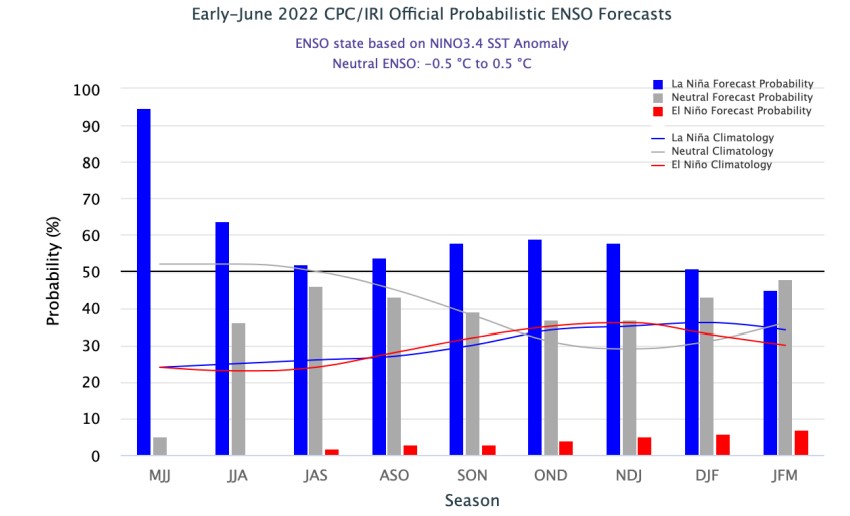 La Niña and El Niño are the cold and warm phases of the El Niño–Southern Oscillation (ENSO) respectively. These phases occur every two to seven years with neutral years in between as well.

La Niña refers to persistent colder-than-normal (-0.5°C or greater) sea surface temperature (SST) anomalies across the central and eastern equatorial Pacific. During La Niña years, the Pacific winds strengthen, warm water shifts west and the eastern Pacific becomes cooler and drier. The ocean absorbs heat into its depth, making global air temperatures cooler.
The occurrence of three consecutive La Niña in the Northern Hemisphere is relatively rare phenomena and is known as 'triple dip' La Niña . According to statistics, three La Niña events in a row has happened only twice since 1950.
These La Niña instances were observed during 1973-1976 and 1998-2001. According to NOAA, the longest La Niña was 37 months, from the spring of 1973 through the spring of 1976. This was followed by 1998-2001, which stayed for over 24 months.
La Niña 2020-2023
The current La Niña phase began around September 2020, when the Nino Indices had gone down below the -0.5°C threshold for the first time. Thereafter, these temperatures have been mild-to-moderate most of the time. The Oceanic Nino Index is given below which shows the recent Pacific cold periods (Blue):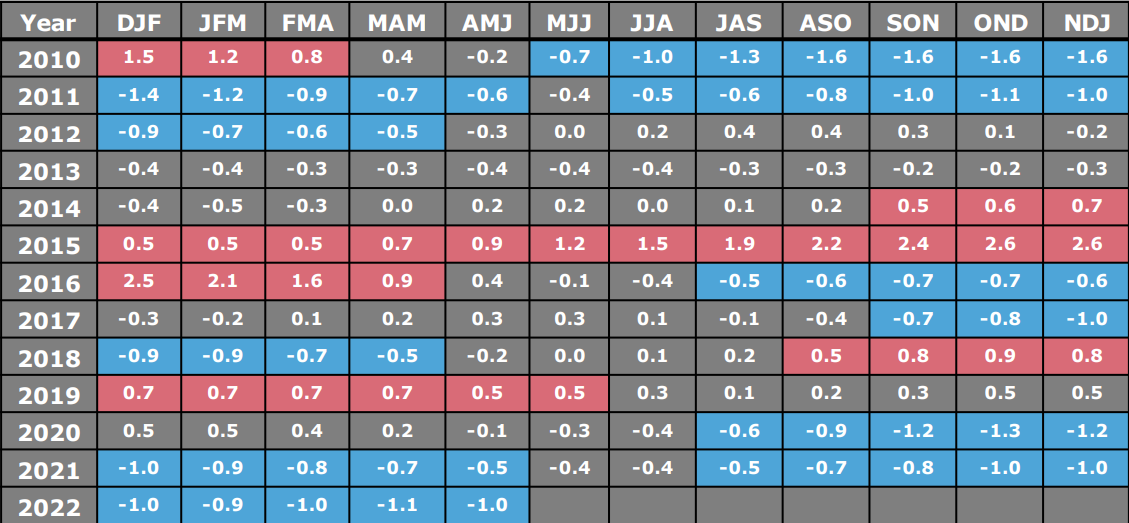 Note: A La Niña is classified as weak when the anomalies range from -0.5°C to -0.9°C, moderate when the anomalies range from -1.0°C to -1.4°C, and strong when the anomalies are -1.5°C or lower.
The present La Niña episode has already endured through 23 months, with forecasts suggesting it could be in the running for becoming the longest La Niña on record.
What makes this La Niña little different from the above mentioned previous two, is that it has not followed a strong El Niño, which is a usual scenario. El Niño is often (but not always) followed by La Niña the following year, particularly if the El Niño is strong.
How is climate change affecting La Niña
There are several ways in which climate change could impact the frequency and intensity of El Niño / La Niña patterns, but scientists currently have low confidence on exactly how a warmer world affects ENSO. Climate change could strengthen or weaken the typical weather patterns associated with ENSO. For instance, La Niña events are associated with good rainfall during Monsoon and extreme winters in India. So, we might see some enhanced flooding rains during future La Niña s.
According to the Intergovernmental Panel on Climate Change (IPCC) Report, Climate Change 2021: The Physical Science Basis, instances of strong El Niño and La Niña events have become more frequent and magnified since 1950 than they were in the centuries before that. However, whether this was caused by natural variability or by climate change is still a matter of research. It is very likely that rainfall variability related to the ENSO is projected to be amplified by the second half of the 21st century.
The recent study by Nature states that the IPCC models indicate a shift to more El Niño-like states as climate change warms the oceans. However, observations have shown the opposite over the past half-century: as the climate has warmed, a tongue of upwelling waters in the eastern equatorial Pacific Ocean has stayed cold, creating more La Niña -like conditions.
As the world warms and the Greenland ice sheet melts, its fresh cold water is expected to slow down a dominant conveyor belt of ocean currents: the Atlantic Meridional Overturning Circulation (AMOC). An AMOC collapse would leave excess heat in the tropical South Atlantic and trigger a series of air-pressure changes that ultimately strengthen the Pacific trade winds. These winds push warm water to the west, thus creating more La Niña -like conditions.
What India can expect with La Niña overstaying
Occurrence of La Niña is invariably linked with above Monsoon rains, but there have been exceptions. Unlike a fairly strong correlation between El Nino and weak Monsoon rains, La Niña does not find a convincing cause-effect relationship. According to meteorologists, in the case of prolonged La Niña conditions, the Monsoon rains are found better in the years when La Niña commences as compared to the following year.
To mark this, the country recorded above normal rainfall during the Southwest Monsoon 2020 to the tune of 109% of long period average (LPA). This was followed by the normal Monsoon season in 2021 wherein India recorded 99% rains of LPA. In view of La Niña extending its stay, state run India Meteorological Department has predicted normal Monsoon rains for 2022. However, there are some unique features, which the country is likely to witness.
Extended Monsoon: Countries can witness a prolonged monsoon season for the third consecutive year. Both 2020 and 2021 have seen extended monsoon seasons, which resulted in the rise in extreme rainfall events, triggering floods as well. Prevailing La Niña keeps the conditions favourable for Monsoon current to stay put over the region for a longer period.
Intense winters: La Niña has the potential to affect India's winter as it influences the wind pattern and speed. North India witnesses less than normal winter rainfall and snowfall. During the winter season, we see north-easterly winds near the land surface, accompanied by a so-called South-westerly Jet in the upper atmosphere. However, La Niña produces a more north-south low-pressure system, impacting the passage of Western Disturbances.
Disappearance of Spring and Heatwave: Spring season gave India a miss this year, with mercury rising steeply quite early in March. The country battled an unprecedented heatwave from March-May. According to G P Sharma, President- Meteorology and Climate Change, Skymet Weather, "La Niña conditions did not let the north-south pressure pattern dissipate that forms over India during the winter season and continued into March and April. This pattern interacted with warm waves coming from the rapidly warming Arctic region, triggering prolonged heat waves." Experts fear a high probability that the same pattern could be seen again.
LaNina
Monsoon