Monsoon 2023: Climate impact and El Nino's arrival | 🎙️ 5-Min Climate-Weather Report
As we reach the halfway mark of Monsoon 2023, we're delving deep into its performance and the role of climate change & El Nino
By Carbon Impacts / Aug 11, 2023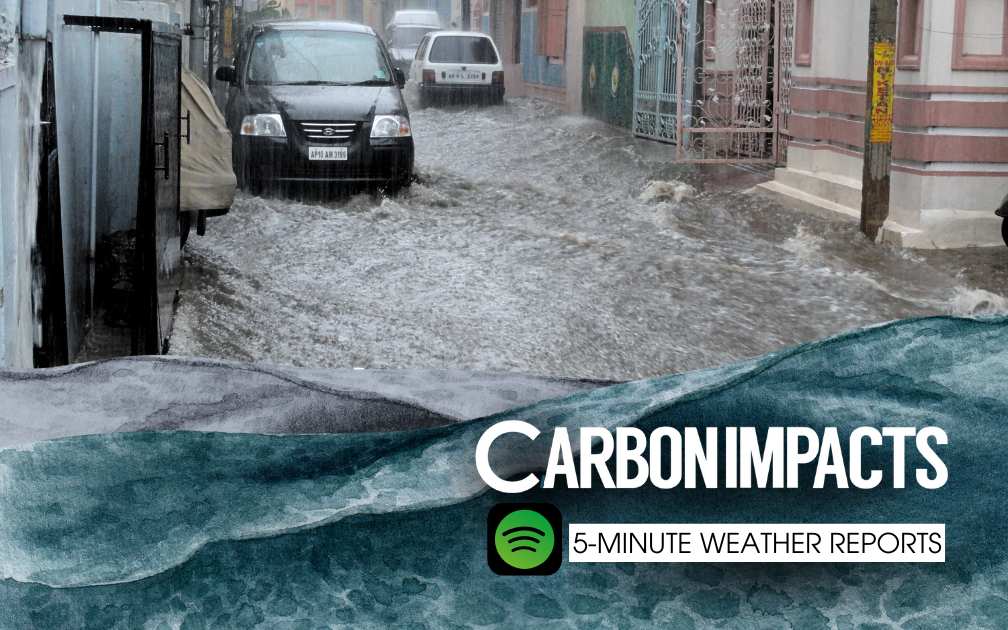 The intensifying events and their longer durations highlight climate change's growing imprint on the Monsoon in India in 2023
Today, we're diving into a crucial topic: the Monsoon performance in India and its intricate connection with climate change. We're halfway through the Monsoon season of 2023, and there's a lot to unpack.

Can you give us a snapshot of how Monsoon 2023 has been so far?
Absolutely. The Monsoon season has shown promise, with the country experiencing a 5% surplus in rainfall at the two-month mark. July brought some impressive numbers, with 29 out of 36 subdivisions in India witnessing normal to above normal rains. However, it's crucial to remember that extreme weather events have been a defining factor since the Monsoon's onset in June.
You mentioned extreme weather events. Can you elaborate on the statistical trends you've been observing?
The numbers speak volumes. Over 1100 stations reported very heavy rain events, and more than 200 stations saw extremely heavy rainfall. This surge is quite striking, as it was the highest the last five years. It's a clear signal of climate change's impact on the Monsoon.
Not only this, the duration of extreme weather events have also risen manifold. Northwest India, especially Himachal Pradesh, Uttarakhand, Punjab, Delhi and Haryana saw extremely heavy rainfall events from July 8-13. Meanwhile, extreme rain events lasted for 10 straight days from July 18-28 along the West Coast that included Gujarat, Maharashtra, Goa and Karnataka.
Now, with the increasing frequency of extreme events, what does this imply for climate change's influence on the Monsoon?
The intensifying events and their longer durations highlight climate change's growing imprint on the Monsoon. We've even seen temperature records reflecting this trend. July 2023 ranked as the eighth warmest July for India since 1901. Simultaneously, the average mean temperature for the East & Northeast India region was the second warmest.
The weather patterns are shifting, and it's a clear reminder of the unpredictable nature of our changing climate.
As we move into the latter half of the season, another factor comes into play: El Nino. How might this influence the Monsoon's course?
El Nino is a crucial consideration. Experts are already indicating the impact of El Nino on Monsoon rains. IMD has already predicted below-normal rains for August, a common trend during El Nino as it gains strength towards the fall season. With equatorial sea surface temperatures rising above average, indications point to a robust El Nino by winter.
Interestingly, this time, the accelerated warming of ocean temperatures has hastened the usual process of El Nino's declaration.
Monsoon 2023
El Nino